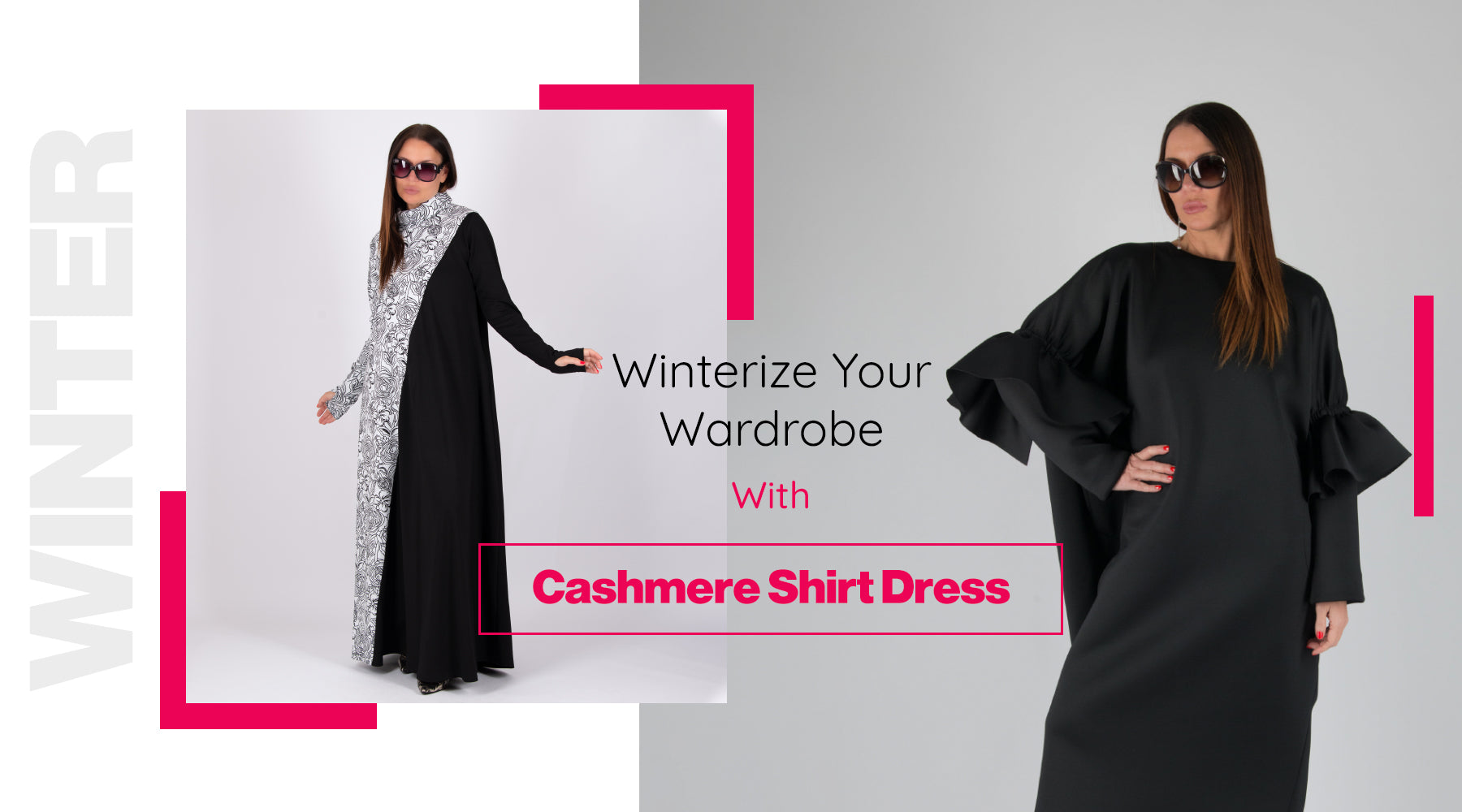 Winterize Your Wardrobe with Cashmere Shirt Dress
Dressing well is a universal right, and the Winter Cashmere Shirt Dress exemplifies this belief beautifully. This amazing winter outfit called the Winter Cashmere Shirt is both warm and stylish. It's a must-have in your winter wardrobe. In this helpful guide, we'll talk about why it's great and how to wear it. We'll help you choose the right size and give you tips to look even better in it. Whether you want to look comfy and casual or super fancy, we've got all the info to make this dress your favorite winter outfit!

Why wear a winter cashmere shirt? 
Get ready for fall and winter fashion with the Cashmere Mid-length Shirt Dress! This dress is a perfect blend of timeless style and comfy luxury. It's made from a mix of Wool and Cashmere, making it really soft and cozy. The dress has classic features like buttons, a nice collar, and wide sleeves that look elegant. But what makes it really special is that it can be made to fit you perfectly - just the way you like it. The model in the picture is 5'6" tall and is wearing a size M, showing off how well the dress is designed for a great look in the upcoming seasons.
How can wear a Cashmere Shirt?
Wearing a Cashmere Shirt is effortless yet chic. For a cozy and stylish winter outfit, layer it with tights or leggings and complete the look with ankle boots or knee-high boots. Consider adding a statement belt to accentuate your waist for a more tailored appearance. Don't forget to accessorize with a matching scarf and gloves for both style and warmth. The Winter Cashmere Shirt Dress is a cozy and stylish outfit that can be worn by many different body shapes. It's perfect for staying comfy and looking good in the cold weather.
Why choose a Cashmere Shirt Dress?
Choosing the Autumn Winter Cashmere Mid-Length Shirt Dress is a great idea for many reasons. First, this dress is both elegant and comfortable, making it a perfect addition to your seasonal wardrobe. It's made of a special kind of soft and warm wool called Cashmere, making it feel luxurious on your skin. What's cool about this dress is that it's made to fit you perfectly - you can choose the size that suits you best. The way it's shown on a model who is 5'6" tall wearing a size M shows how good it can make you look and feel during autumn and winter.
Finding the best outfit 
To truly shine in a Winter Cashmere Shirt Dress, understanding your body shape is essential. Whether you're an apple, pear, hourglass, or rectangle, there's a style to flatter your figure. Precise measurements are key, so measure your bust, waist, hips, and consider your ideal length. Consult sizing charts and read customer reviews for insights into fit and comfort. When you shop online, choose stores that make it simple to return items if needed. Also, carefully read the product descriptions to learn about the type and quality of the fabric used.

Few Popular Options to Consider
Here are a few popular options to consider
Long Winter Neoprene Dress
Elevate your winter wardrobe with our Long Black Winter Neoprene Dress, a versatile gem designed for both style and comfort. Crafted from the gentle and soft thin neoprene-polyester blend, it's the perfect fusion of warmth and elegance. This dress is really practical and stylish. It has two useful pockets, long sleeves, and a simple zipper at the back, making it easy to put on. Whether you're a maxi size or not, it caters to all body types, ensuring a flattering and comfortable fit. Our model, standing at 5'6" / 170 cm, effortlessly showcases the dress in size M, emphasizing its graceful appeal. Get ready to feel strong and stylish during winter in this dress. It's both useful and beautiful, making it a must-have for your winter clothes.

Winter Dress
Experience winter beauty with our Black Long Plaid Winter Dress. It's a great mix of style and warmth. The dress is made from a comfy blend of 95% cotton and 5% elastin (Punto Milano), so it's soft and stretchy. You'll love wearing it. It has two useful front pockets and an easy-to-use back zipper, combining fashion and practicality. Suitable for maxi sizes, it caters to diverse body types, promising a flattering fit. Our model, standing at 5'6" / 170 cm, exudes charm in size M, showcasing the dress's timeless appeal. Feel confident and graceful in this dress during winter! It's comfy and stylish, a great choice for your winter clothes collection.
Long Cotton Dress

Enjoy ultimate comfort and style in our Long Dark Red Cotton Dress. It's made from soft terry cotton, making it feel really nice. The dress looks great and is practical too, with handy pockets and a stretchy cotton fabric. Its versatile design makes it suitable for maxi sizes, ensuring an elegant and flattering fit for various body types. As our model gracefully demonstrates in size M at 5'6" / 170 cm, this dress embodies both comfort and sophistication. Elevate your wardrobe with this timeless dark red dress, an exquisite choice for any occasion.
Turtleneck long Dress

Introducing our amazing Turtleneck Black Long Dress, which is always stylish and can be worn all year round. This dress is made from a mix of soft cotton and stretchy elastin, so it looks great and lets you move easily. It's made just right for you, as you can get it in your exact size. Our model, who is 5'6" tall and wears a size M, shows how elegant and classy this dress is. You can look fashionable and feel comfortable no matter the season or event with this dress. It's a must-have in your wardrobe!
Long Dress

Upgrade your winter wardrobe with our Half Turtleneck Collar Dress. It has a nice high collar and handy pockets on the sides. The dress is made from soft and gentle cotton with a bit of elastane, making it feel really nice on your skin. It keeps you warm and looks great during the colder months. It's designed to fit larger sizes well and will flatter different body shapes. Our model is 5'6" tall and wears a size M, showing how elegant the dress can look. This dress is perfect for staying cozy and stylish in winter, whether you're out and about during the day or going out at night.
Washing and Maintenance Tips for Your Cashmere Shirt Dress

To keep your Cashmere Shirt looking its best, opt for gentle hand washing in cold water with a mild detergent. Avoid vigorous scrubbing or wringing, and instead, gently soak and swish the dress to prevent damage to its delicate fibres. Rinse thoroughly until all detergent is removed, and then press out excess water between clean towels, being careful not to twist or wring. Lay the dress flat on a towel to dry, reshaping it to its original dimensions, and avoid direct sunlight during drying to prevent fading.

Storage Tips
Ensure the dress is clean before storing it, as even minor stains can become more challenging to remove later. Fold the Cashmere Shirt Dress neatly and place it in a breathable garment or cotton storage bag to maintain its shape. Avoid hanging, as it can lead to stretching. Protect against moths by using natural repellents like cedar blocks or lavender sachets in your storage area. Put the dress in a cool, dry place where air can flow well. Don't keep it where it's wet or humid. Sometimes, check your clothes and move them around so they don't get crinkled or damaged. By following these guidelines, you can prolong the life of your Cashmere Shirt and keep it in excellent condition.
Closing Thoughts
As winter approaches, the Winter Cashmere Shirt emerges as your ideal companion for the season. This guide has been your compass, navigating the intricate landscape of winter fashion with you. By helping you select the perfect fit and offering expert styling advice, we've empowered you to elevate your winter wardrobe. With this dress, you'll effortlessly blend warmth and elegance, whether it's for a cozy everyday look or a statement ensemble. Get ready for winter feeling good about your fashion choices! The Winter Cashmere Shirt Dress will make you look great and feel cozy during the colder months.
Liquid error (sections/article-template line 168): Could not find asset snippets/blog-comment-form.liquid