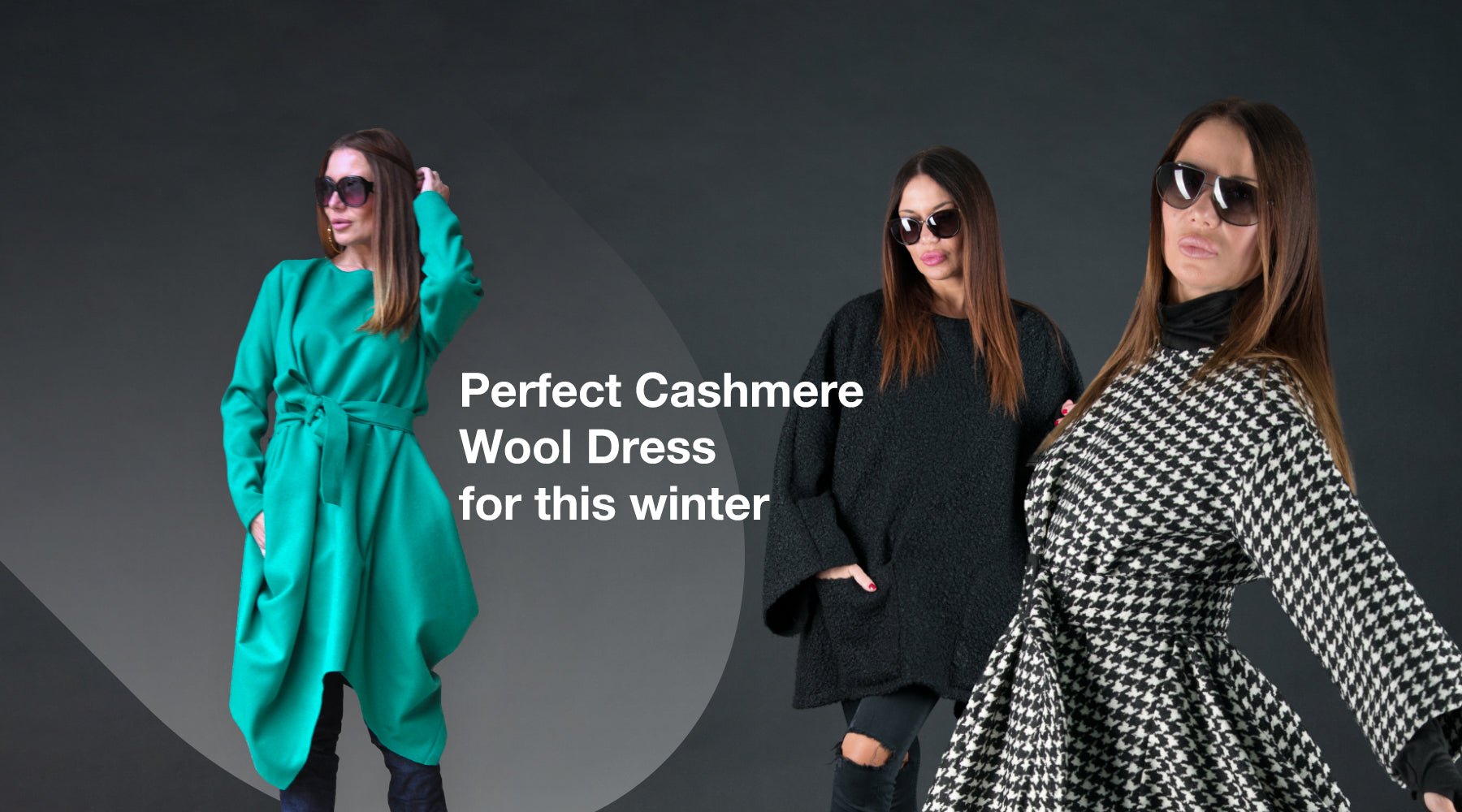 Perfect Cashmere Wool Dress for this winter
As the cool embrace of autumn and winter descends upon us, a sartorial gem emerges in the form of the Dark Grey Cashmere Wool Dress. It transcends the realm of mere attire, becoming a symbol of timeless elegance, seamlessly merging comfort and sophistication. Comprising premium fabrics and sumptuous cashmere wool, it not only cocoons you in opulent warmth but also confers an enduring aura of charm and refinement. In this article, we embark on a captivating journey through the winter fashion landscape, not only unraveling the dress's versatile styling options but also delving into the art of curating the perfect winter ensemble. Join us as we explore diverse ways to adorn it, cater to various body shapes, and unearth other essential winter wardrobe pieces destined to elevate your seasonal style to unparalleled heights.
Elevate Your Winter Experience with a Cashmere Wool Dress
Embrace the enchanting allure of autumn and winter with our Dark Grey Cashmere Wool Dress, a harmonious blend of comfort and sophistication. Crafted from a sumptuous fusion of premium fabrics and cashmere wool, this dress epitomizes timeless elegance, casting a spell of sophistication over any seasonal occasion. The deep, dark grey hue evokes the rich hues of the season, ensuring you stand out with an air of enduring charm and class.
Be it an intimate autumn gathering or a grand winter gala, this dress guarantees you'll exude style and grace. Its customizable sizing allows for a personalized fit, ensuring you feel as good as you look. Our model, standing at 5'6" (170 cm) and elegantly dressed in size M, epitomizes the dress's adaptability and everlasting allure. So, cocoon yourself in the luxurious warmth of cashmere and step confidently into the embrace of winter, making a statement that's as unforgettable as the season itself.
Stylish ways to wear Cashmere Wool Dress
Embrace the winter season with our versatile Cashmere Wool Dress, your go-to piece for cold-weather fashion. This dress is not only stylish but also practical, making it a must-have for frosty days. Wear it solo with over-the-knee boots for a chic and cozy look, or layer it over leggings for added warmth and style. If you're heading out for a night on the town, the dress easily transforms into a tunic when paired with faux leather leggings and suede pumps.
For a monochromatic ensemble, swap out the jacket while keeping the dress as the centerpiece, complete with over-the-knee boots and tights. As the mercury drops further, consider adding nude tights or ankle and knee-high socks for extra insulation. With its adaptability and timeless appeal, our Cashmere Wool Dress ensures you remain both fashionable and snug throughout the winter season, whether you're navigating chilly days or dressing up for special occasions.
Perfect outfit
When it comes to donning our Autumn Winter Dark Grey Cashmere Wool Dress, your body shape is your style compass. Whether you're an apple, pear, hourglass, or rectangle, this dress offers a flattering option for all. Start by measuring your bust, waist, hips, and decide on your ideal length. Dive into sizing charts and customer reviews for insights on fit and comfort. Opt for retailers with easy returns when shopping online, and be sure to appreciate the rich blend of mixed fabric and cashmere wool highlighted in our product description. Our model, proudly wearing size M at 5'6" (170 cm), embodies the dress's versatility, allowing you to shine in your own unique way.
Perfect outfit to choose for this winter
To rock our Autumn Winter Dark Grey Cashmere Wool Dress, knowing your body shape matters. Whether you're curvy like an apple, slender like a pear, have an hourglass figure, or have straighter lines like a rectangle, there's a style that'll flatter you. Start by measuring your bust, waist, hips, and decide how long you want the dress to be. Look at sizing charts and read reviews to find the right fit and comfort. When shopping online, choose stores with easy returns, and pay attention to the description to appreciate the luxurious mixed fabric and cashmere wool. Plus, you can customize this dress to your size, making it a perfect choice for you this season.
AUTUMN WINTER WOOL DRESS
Elevate your winter style with our Autumn Winter Shepherd's Plaid Wool Dress, complete with a chic belt to accentuate your waistline. Crafted from luxurious wool, this dress not only keeps you cozy and warm during the chilly months but also ensures you stand out effortlessly. Designed for maxi sizes and worn by our stunning model at 5'6" / 170 cm in size M, this dress is tailored for all body types, promising a flattering fit for everyone.
The timeless shepherd's plaid pattern exudes classic elegance while adding a touch of nostalgia to your winter wardrobe. Whether you're strolling through snowy streets or sipping cocoa by the fireplace, this dress is your key to a memorable and fashionable winter season. Don't miss out on this must-have piece that combines comfort, style, and versatility in one stunning ensemble.
LIGHT BROWN WOOL DRESS
Indulge in the luxurious warmth and sophistication of our Light Brown Cashmere Winter Dress. Crafted from the finest cashmere blended with wool, this dress offers a soft, sumptuous touch that will cocoon you in comfort throughout the winter season. With its relaxed maxi loose line design, it's not only stylish but also incredibly comfortable, allowing you to move freely while looking effortlessly chic.
Our model, standing at 5'6" / 170 cm, wears size M to showcase its versatile fit for all body types. This dress is the epitome of cozy elegance, promising to elevate your winter wardrobe to new heights. Embrace the softness and charm of cashmere, and make this dress your go-to choose for memorable winter days and nights. Don't wait to experience the ultimate blend of comfort and style
AUTUMN LONG SLEEVE DRESS
Elevate your seasonal wardrobe to new heights with our Autumn Green Wool Cashmere Dress, a true masterpiece that effortlessly transitions you from autumn's crisp embrace to winter's chilly charm and even the gentle warmth of spring. Crafted from 100% cashmere, this dress is the epitome of luxury and comfort combined. The maxi design is tailored to flatter all sizes, and our model, standing at 5'6" / 170 cm, wears size M to showcase its universally flattering fit.
Immerse yourself in the timeless elegance of this rich green hue, reminiscent of nature's beauty in every season. Whether you're strolling through autumn leaves, embracing the winter's chill, or basking in the spring sunshine, this dress will be your trusted companion. Don't miss the chance to invest in comfort, sophistication, and versatility – make every season a stylish one by adding this dress to your collection today!
WOOL WINTER PONCHO
Wrap yourself in the cozy elegance of our Wool Black Plus Size Winter Poncho. Crafted from luxurious merino wool fabric, this poncho is a statement piece that exudes both warmth and style. Designed to suit plus-size individuals, it offers a comfortable and flattering fit for all body types.
Our model, standing at 5'6" / 170 cm, showcases the versatility of this piece in size M. Whether you're heading out for a winter adventure or simply want to elevate your cold-weather fashion game, this poncho is your go-to choose. Embrace the timeless appeal of black, and make a bold fashion statement while staying snug and stylish. Elevate your winter wardrobe with this must-have accessory.
Prepping Cashmere for Long-Term Storage
To ensure the longevity of your Cashmere Wool Dress, practice meticulous care and storage. Begin by delicately hand-washing it with a wool-specific detergent in cool water, then gently lay it flat to air dry, avoiding wringing or hanging to preserve its shape. Address stains promptly with a gentle touch and consider periodic depilling using a cashmere comb or fabric shaver.
Guard against moths by storing it within a breathable, zippered garment bag, accompanied by cedar balls or blocks and soothing lavender sachets. Regularly inspect and rotate your dress to maintain its impeccable condition, allowing you to enjoy enduring comfort and timeless style throughout the seasons.
Closing Thoughts
In the world of winter fashion, the
Dark Grey Cashmere Wool Dress
stands as a testament to the perfect blend of comfort and sophistication. It has been our pleasure to guide you through the versatile styling options and the art of selecting the ideal winter ensemble. As we conclude our journey, remember that a well-chosen winter outfit isn't just a matter of style; it's a shield against the elements, a reflection of your individuality, and a source of timeless confidence in the frosty embrace of the season. So, embrace the magic of winter with your chosen ensemble, and step out with the warmth of fashion and self-assured elegance.
Liquid error (sections/article-template line 168): Could not find asset snippets/blog-comment-form.liquid