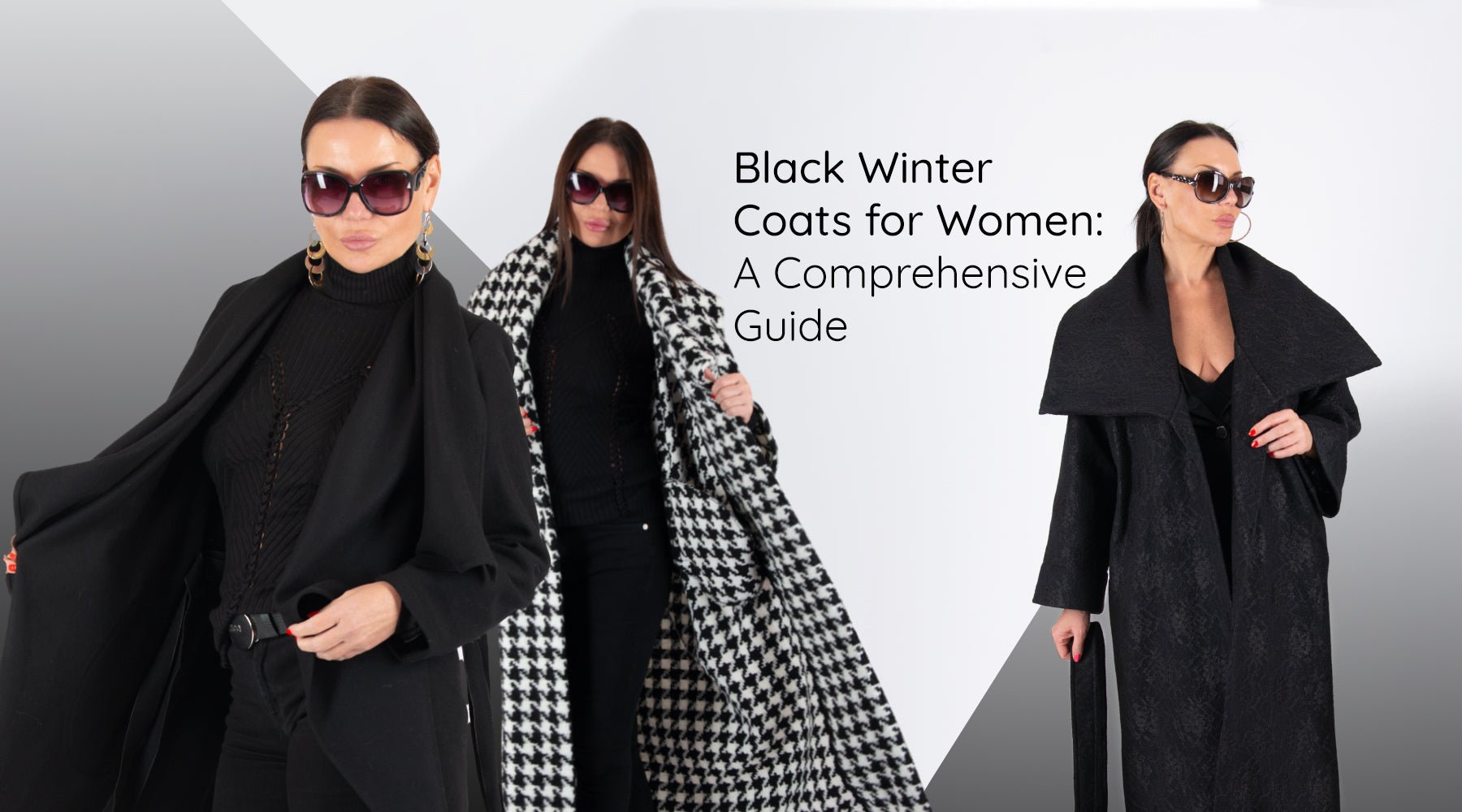 Black Winter Coats for Women: A Comprehensive Guide
As the temperatures drop and winter approaches, a stylish and warm coat becomes an essential part of every woman's wardrobe. When it comes to choosing a winter coat, black is a timeless and versatile color that goes with virtually any outfit. In this comprehensive guide, we will explore the world of black winter coats for women, covering everything from styles and materials to care tips and where to find the best options.
Why Choose a Black Winter Coat?
Before diving into the details, it's essential to understand why black winter coats are a popular choice among women. Here are a few reasons:
Versatility
Black coats complement a wide range of outfits, from casual jeans to formal dresses. They seamlessly blend into any fashion style, making them a versatile choice for winter.
Timeless Elegance
Black is a classic color that never goes out of style. A well-maintained black coat can serve you for several winters, making it a cost-effective investment.
Flattering
Black is known for its slimming effect, which can make you look and feel your best during the winter months.
Now, let's explore the different styles and materials available when it comes to black winter coats for women.
Styles of Black Winter Coats
Trench Coats
Trench coats are a timeless and sophisticated choice for winter. They come in various lengths, but a knee-length or longer trench coat can provide better coverage during chilly weather. Look for features like a belt, which can help cinch your waist for a more flattering fit.
Pea Coats
Pea coats are characterized by their double-breasted front and wide lapels. They are both stylish and warm, making them a popular choice for colder climates. Opt for a black pea coat with a cozy lining to stay toasty in the winter cold.
Puffer Jackets
For extreme cold and snowy conditions, puffer jackets are a go-to option. They are filled with insulating materials like down or synthetic fibers, providing excellent warmth without excessive bulk. Look for a sleek, black puffer jacket for a modern and sporty look.
Parkas
Parkas are long, hooded coats that are perfect for extremely cold climates. They often have fur-lined hoods for added warmth and style. A black parka is a practical choice for those who prioritize warmth and comfort.
Wool Coats
Wool coats are a classic choice for winter. They are known for their warmth and durability. A black wool coat can be a sophisticated addition to your winter wardrobe, suitable for both casual and formal occasions.
Materials for Black Winter Coats 
When it comes to materials, the choice depends on your style preferences and the climate you live in. Here are some common materials used in black winter coats:
Wool
Wool is a natural insulator, making it an excellent choice for cold weather. It's warm, breathable, and durable. Look for coats with a high wool content for maximum warmth.
Down
Down-filled coats are incredibly warm and lightweight. They are perfect for frigid temperatures. Ensure that the down is responsibly sourced for ethical considerations.
Faux Fur
Faux fur linings or trims can add a touch of luxury to your black winter coat. They not only look stylish but also provide extra warmth around the neck and hood.
Waterproof Materials
In wet and snowy climates, consider a black winter coat made from waterproof or water-resistant materials. These coats will keep you dry and warm in inclement weather.
Choosing the Right Fit
No matter the style or material you choose, the fit of your black winter coat is crucial. Here are some tips for finding the right fit:
Try it On
Always try the coat on before purchasing to ensure it fits well, especially if you're buying online.
Layering
Consider the types of clothing you'll wear underneath the coat. It should be roomy enough to accommodate your winter sweaters without feeling too tight.
Length
The coat's length should be flattering and functional. Longer coats provide more coverage and warmth, while shorter ones offer a more casual look.
Sleeve Length
Make sure the sleeves are long enough to cover your wrists, especially in extremely cold conditions.
Ideal Winter Outfit Selection
Here are a few Ideal Winter Outfit Selection:
WINTER HOUNDSTOOTH COAT

A winter houndstooth coat, such as the "Michael Kors Women's Houndstooth Wool-Blend Coat," is a classic and elegant choice. Made from a warm wool-blend fabric, it provides both style and comfort. Its double-breasted design adds a touch of sophistication, making it suitable for various occasions. Pair this coat with black or white basics and accessories for a chic winter ensemble. Whether you're dressing up for a formal event or adding a touch of class to your everyday look, a houndstooth coat is a versatile and timeless addition to your winter wardrobe.
WOOL WINTER COAT
A wool winter coat is a timeless and reliable choice for staying warm and stylish during the colder months. Wool is known for its exceptional insulation properties and durability, making it an ideal material for winter outerwear. Whether you prefer a classic pea coat, an elegant trench coat, or a cozy wool-blend parka, a wool winter coat is a versatile addition to your wardrobe. Look for high-quality options with proper lining to ensure maximum warmth. Pair it with your favorite winter accessories for a complete cold-weather look that exudes both comfort and sophistication.
LONG PLAID COAT
A long plaid coat is a trendy and chic choice for the colder seasons. Plaid patterns, known for their versatility, add a stylish touch to your winter wardrobe. These coats often feature a knee-length or longer silhouette, offering excellent coverage and warmth. Whether you opt for a classic tartan pattern or a more modern design, a long plaid coat can effortlessly elevate your outfit. Pair it with solid-colored basics and boots for a fashionable winter look that combines comfort and style.
AUTUMN CAMEL COAT
An autumn camel coat is a classic and versatile addition to your fall wardrobe. The rich, warm color of camel pairs beautifully with the autumnal palette. These coats are typically designed for the transitional weather, providing just the right amount of warmth. A camel coat can be worn over casual outfits or dressed up for more formal occasions. Its timeless appeal makes it a staple piece, and its neutral hue complements various autumn ensembles. Pair it with earth-toned scarves, jeans, and ankle boots for a perfect autumn look that exudes sophistication and comfort.
NEOPRENE BLAZER COAT
A neoprene blazer coat is a contemporary and versatile piece that combines the structure of a blazer with the comfort of neoprene fabric. Neoprene is a synthetic rubber known for its insulating properties, making it an excellent choice for cooler weather. This blazer coat offers a sleek and modern look, perfect for adding a touch of sophistication to your outfit. Its tailored silhouette and lightweight warmth make it suitable for both formal and casual occasions. Pair it with jeans and ankle boots for a stylish ensemble that seamlessly transitions from day to night.
Care and Maintenance
To keep your black winter coat looking its best season after season, follow these care tips:
Read the Care Labe
Always follow the care instructions provided on the coat's label. Different materials may have specific cleaning requirements.
Dry Cleaning
Many black winter coats, especially those made of wool, are best cleaned through professional dry cleaning to maintain their shape and color.
Storage
Store your coat in a cool, dry place when not in use. Use padded hangers to maintain its shape, and consider using a breathable garment bag to protect it from dust.
Where to Find the Best Black Winter Coats
Now that you have a good understanding of styles, materials, and care, it's time to find the perfect black winter coat. Here are some popular options:
Department Stores
Visit your local department stores to browse a wide range of brands and styles. You can try them on in person and take advantage of seasonal sales.
Online Retailers
Websites like Amazon, Nordstrom, and Zara offer a vast selection of black winter coats for women. Read reviews and check sizing guides to make an informed decision.
Boutiques
Local boutiques often carry unique and stylish coats that you won't find in larger chain stores. They can provide a personalized shopping experience.
Designer Brands
If you're looking for high-end black winter coats, explore designer brands like Burberry, Michael Kors, and Ralph Lauren.
Secondhand and Vintage Shops
Consider eco-friendly options by shopping for pre-owned black winter coats. You can find vintage gems and save money at the same time.
Conclusion
A black winter coat for women is a versatile and timeless addition to your wardrobe. Whether you opt for a classic wool coat, a cozy puffer jacket, or a chic trench coat, choosing the right style and material is essential for staying warm and stylish throughout the winter months. With proper care and maintenance, your black winter coat can serve you well for years to come, making it a valuable investment in your winter wardrobe. Happy shopping!
Liquid error (sections/article-template line 168): Could not find asset snippets/blog-comment-form.liquid