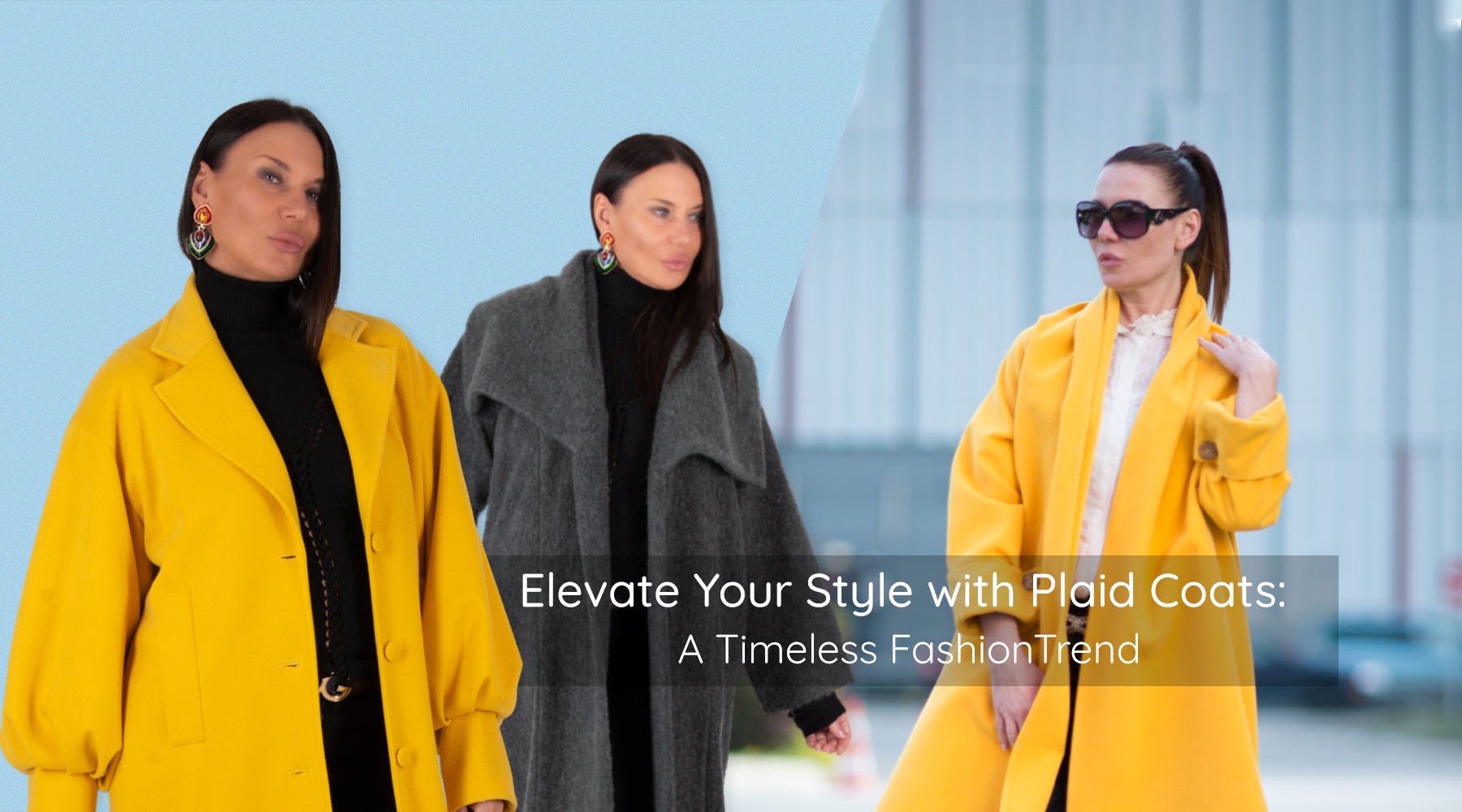 Elevate Your Style with Plaid Coats: A Timeless Fashion Trend
In fashion, some trends come and go, but others stand the test of time. One such enduring trend is the plaid coat. Plaid coats are popular and have been around for a long time. They are still in demand for those who want to enhance their style.
In this article, we'll explore the timeless appeal of plaid coats, their versatility, and how to wear them to make a lasting impression. Plaid coats are a good choice for your closet if you like fashion or need a new winter coat. Find out why.
The History of Plaid Coats 
Plaid coats, often associated with Scottish heritage, have a rich history dating back centuries. Originally, people in Scotland wore plaid patterns as a symbol of clan identity, and they wove these patterns into kilts and cloaks. These patterns evolved, eventually making their way into the world of fashion. In the 19th century, plaid coats gained popularity in Europe and North America, becoming a symbol of refinement and sophistication.
Today, plaid coats have transcended their cultural origins to become a global fashion icon. From classic tartan plaids to more contemporary designs, these coats offer a timeless appeal that can elevate any outfit.
Versatility in Plaid Patterns
One of the key reasons for the enduring popularity of plaid coats is their incredible versatility. Plaid has many patterns, colors, and sizes, so you can easily find a coat that matches your style.
Some popular plaid patterns include:
Tartan Plaid
The classic tartan plaid, with its intersecting horizontal and vertical stripes, is a timeless choice that exudes elegance.
Glen Plaid
Also known as Prince of Wales check, this pattern features small, tightly woven checks that create a subtle and sophisticated look.
Windowpane Plaid
Characterized by larger, widely spaced checks, windowpane plaid adds a touch of modernity to your coat.
Buffalo Plaid
With its bold and rustic appearance, buffalo plaid is perfect for those who prefer a more rugged style.
Houndstooth
People often group houndstooth with plaid patterns because of its checkered design, even though it is not strictly a plaid. It offers a classic yet bold aesthetic.
Plaid Coats for Every Occasion
The versatility of plaid coats extends beyond just their patterns. These coats are suitable for a wide range of occasions, making them a valuable addition to your wardrobe.
Casual and stylish outfit
Plaid coat, jeans, and a simple sweater. Great for weekends or shopping.
Office Elegance
For a sophisticated office outfit, layer a plaid coat over a tailored dress or a sleek pantsuit. The classic patterns of plaid add a touch of refinement to your work attire.
Evening Glamour
Plaid coats can even be incorporated into your eveningwear. Opt for a long plaid overcoat to make a dramatic entrance at a formal event or a romantic dinner.
Weekend Getaways
When heading out for a weekend getaway, a cozy plaid coat can be your best companion. It keeps you warm while adding a touch of style to your travel ensemble.
A Plaid Coat for Every Season
Although people often associate plaid coats with the chilly months of fall and winter, you can adapt them for every season.
Winter Warmth
The heavy, woolen plaid coats are perfect for keeping warm during the winter months. Choose coats with insulating linings to stay cozy in cold temperatures.
Spring and Fall Transition
Lightweight plaid coats in cotton or blends are ideal for transitioning between seasons. They provide just enough warmth without making you overheat.
Summer Layering
Yes, you can wear plaid even in the summer. Opt for a lightweight plaid blazer or duster coat to layer over your summer dresses or tops.
Styling Tips for Plaid Coats
To truly make a statement with your plaid coat, consider these styling tips:
Neutral Base
When wearing a bold plaid coat, keep the rest of your outfit neutral. A black dress, gray sweater, or white pants can balance the look.
Mixing Patterns
Don't be afraid to mix plaid with other patterns like stripes or polka dots. Just ensure they share similar colors or tones.
Accessorize Wisely
A plaid coat pairs well with simple accessories like a solid-colored scarf or a statement belt.
Footwear Choice
Depending on the occasion, you can wear plaid coats with anything from ankle boots to sneakers or even heels.
Tailoring Matters
Make sure your plaid coat fits perfectly. Tailoring can transform an ordinary outfit into an extraordinary one.
FEW POPULAR OPTIONS TO CONSIDER
Here are a few popular options to consider:
WOOL COAT
This classy wool coat is perfect for those who love style and comfort. It features front buttons, wide puff sleeves, and two convenient pockets. Plus, it's lined for extra coziness. The coat is made from a blend of wool and polyester, ensuring both warmth and durability. The model in the picture is wearing size M and is 5′6″ / 170 cm tall. We can also customize the coat to fit your specific size preferences.
FAUX SHORT CAPE
Check out our trendy Black Faux Short Cape! It comes with a big hood and buttons up high around the neck for a chic look. Embrace elegance and show off your style by daring to wear this fabulous piece! It's made of vegan faux material and lined for your comfort. Perfect for all sizes, including maxi sizes. The model in the picture is wearing size M and stands at 5′6″ / 170 cm. Get yours now and make a fashion statement!
WINTER MUSTARD COAT
Check out this amazing winter Mustard Coat! It's a beautiful Cashmere Coat in a lovely mustard color. The coat has long sleeves and cuffs, giving it a stylish look. Plus, it's asymmetrical, adding a unique touch to your winter outfit. It's made from a blend of Cashmere and polyester fabric, making it warm and cozy. This coat is great for larger sizes too, perfect for staying comfortable and fashionable during the chilly season. The model in the picture is wearing a size M and is 5′6″ / 170 cm tall. Stay warm and trendy in this fabulous Mustard Coat!
WOMEN LOOSE AUTUMN WINTER COAT
This is an orange cashmere coat for women that's perfect for autumn and winter. It's a loose-fitting coat with an asymmetrical design, featuring two side pockets and zippers. The winter coat comes with a collar and buttons, adding to its stylish look. It's made from a blend of wool, cashmere, and polyester, and it doesn't have any lining. This coat is great for maxi sizes and can be customized based on the client's preferred size. The model in the picture is wearing a size M and is 5′6″ / 170 cm tall.
WINTER WOOL COAT
Introducing our cozy and stylish Winter Wool Coat! This winter essential features wide sleeves, two convenient side pockets, and a chic belt for a fashionable touch. Crafted from warm wool fabric in a classy dark grey shade, it's perfect for staying warm and trendy during the chilly months. Available in maxi sizes, just like the model who wears size M at 5'6" (170 cm). Embrace the cold weather in style with this must-have winter cardigan for women.
Plaid Coats: A Sustainable Choice
In today's world, sustainability in fashion is of paramount importance. Plaid coats, which often consist of high-quality materials like wool and cotton, have a durable construction. By investing in a well-made plaid coat, you are not only making a stylish choice but also a sustainable one. When worn, these coats are designed to last through multiple seasons, reducing the need for frequent replacements and ensuring longevity.
Conclusion
Plaid coats are a fashion classic that continues to evolve with the times. Their versatility, history, and ability to adapt to various occasions and seasons make them an indispensable part of any wardrobe. You can choose between a classic or contemporary plaid coat. Either way, it will make you look stylish and keep you cozy during the colder months. So, embrace the timeless charm of plaid coats and make a lasting fashion statement.
Liquid error (sections/article-template line 168): Could not find asset snippets/blog-comment-form.liquid