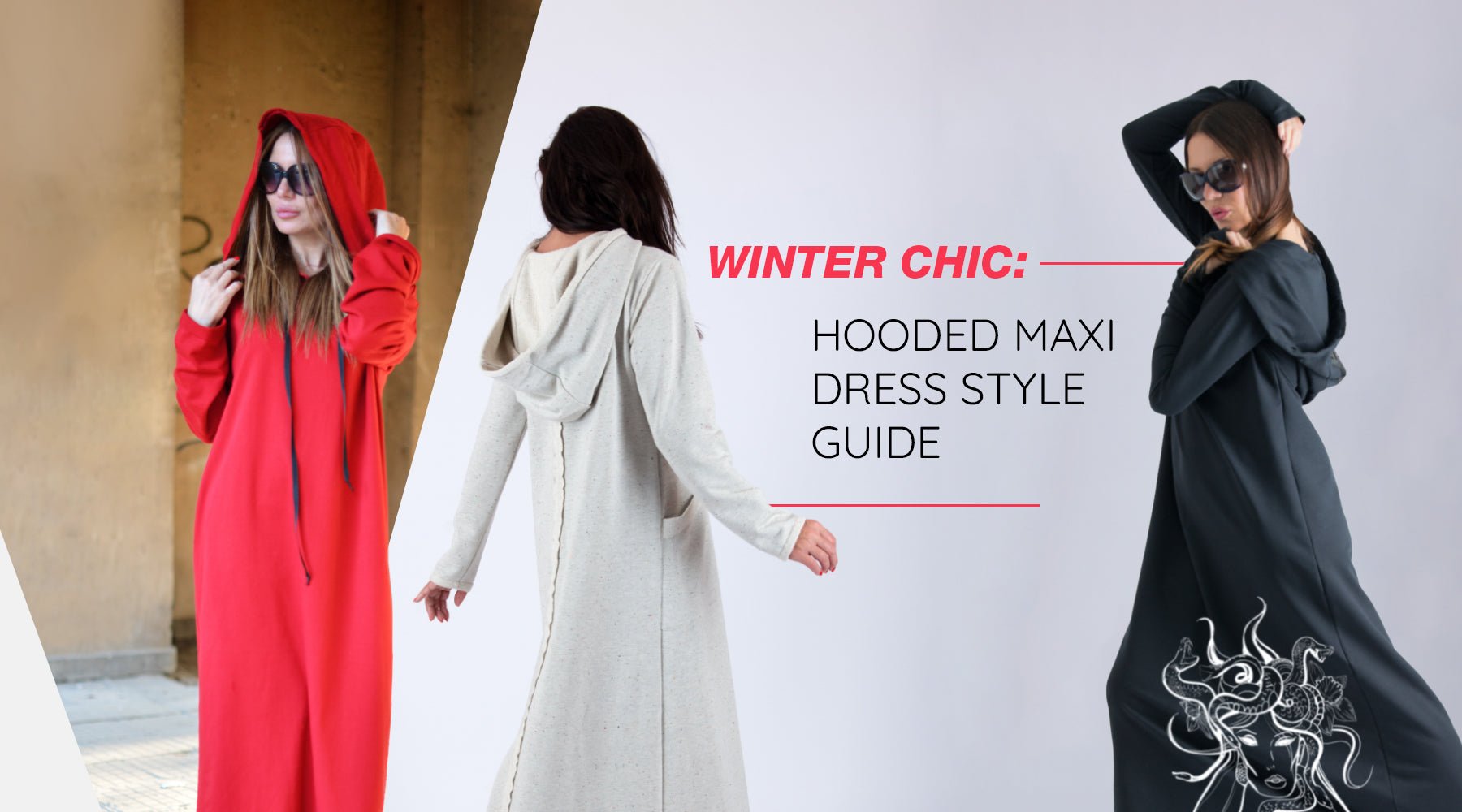 Winter Chic: Hooded Maxi Dress Style Guide
Embark on a sartorial adventure as we unveil the enchanting world of hooded maxi dresses. These lovely, flowing miracles of design seamlessly combine comfort and style and have a seductive charm. In this post, we explore the ideal accessories to go with these hooded maxi dress and master the art of appearing flawlessly beautiful in them. Get ready to be amazed by a well-picked selection of charming items that will make your winter wardrobe unforgettable. Of course, we'll also go over how to maintain their beauty so that they continue to be classic complements to your collection.
WHAT EXACTLY HOODED MAXI DRESS IS?
A hooded maxi dress is like a long, flowy dress that goes all the way down to your ankles. It's kind of like having a dress and a hoodie combined into one stylish outfit. You can wear it when you want to look a little fancy but still want to feel comfy and cool with that hooded vibe. It's a versatile choice for different occasions!
HOW TO LOOK STYLISH IN A HOODED MAXI DRESS?
To look stylish in a hooded maxi dress, focus on the right balance between comfort and chic. Opt for a maxi dress with a flattering fit that accentuates your figure. Pair it with stylish accessories like a wide-brimmed hat, oversized sunglasses, and a statement belt to define your waist. Consider the footwear carefully; sandals, ankle boots, or platform shoes can elevate the look depending on the occasion. Make sure the hood complements the overall design, and experiment with layering, adding a denim or leather jacket for a trendy touch. Finally, choose a color or pattern that matches your style and the season. This way, you can feel confident and elegant in your hooded maxi dress.
WHAT TO WEAR WITH A HOODED MAXI DRESS?
To achieve a stylish and versatile look with a hooded maxi dress, consider these options for layering and accessorizing. To achieve a casual style, start with a basic denim jacket. For those chilly evenings, go for a lightweight open-front cardigan to stay warm while still looking effortlessly chic. As an alternative, you may spice up your ensemble by tying a button-up shirt at the waist. This adds a fashionable, waist-defining element that complements the maxi dress' airy form. For a more refined appearance, a well-fitted blazer can instantly add sophistication to your ensemble. Remember to add a scarf for a touch of personal style or a belt to highlight your waist. This lets you create a unique and stylish look that works for different occasions and weather conditions.
SOME OF THE BEST PRODUCTS TO WEAR
Discover a collection of the best clothing items to make your winter more enjoyable, with an emphasis on the popular hooded maxi dress. These adaptable clothes promise to make your winter a season to remember by flawlessly fusing warmth, style, and comfort:
HOODED OCTOPUS PRINTED DRESS TINA
The Black Hooded Octopus Printed Dress is a stylish and unique addition to women's plus-size fashion. This maxi dress features an eye-catching octopus print on a black backdrop, making it a statement piece. The dress comes with a big hood and neoprene stripe detailing on the back, adding an edgy touch to the design. It is crafted from fine tricot wadding fabric, ensuring comfort and quality, and includes two convenient side pockets. Made from a blend of cotton and elastin fabric, it offers both softness and stretch. The dress is suitable for maxi sizes, and the model in the description wears a size M, standing at 5'6" (170 cm). This dress is a great choice for plus-size fashion lovers who want a stylish, comfortable, and fun outfit.
AUTUMN RED HOODED MAXI DRESS IREN
The Autumn Red Hooded Maxi Dress is a versatile and comfortable addition to your fall wardrobe. Crafted from a blend of 95% cotton and 5% elastin fabric, this dress offers a soft and stretchy feel that's perfect for cooler autumn days. The dress features a cozy hood and comes with two convenient pockets, adding both style and functionality to your outfit. Suitable for maxi sizes, this dress is designed to flatter a range of body types. The model, who is 5'6" (170 cm) tall and wears a size M, perfectly illustrates how this red hooded maxi dress can work for people of all shapes and sizes. Whether you're dressing up for a special event or just want a comfy and stylish everyday look for the fall season, this dress has you covered.
HOODED TUNIC ANIE
The Hooded Light Grey Tunic is a truly unique and sophisticated dress that exudes an air of extravagance. This outfit's elegant design allows you to wear it for different occasions like events, parties, dinners, and even weddings. Made from a comfortable cotton viscose blend, it offers both style and comfort. The tunic is suitable for maxi sizes, making it a flattering choice for different body types. The model in the description wears a size M and stands at 5'6" (170 cm), showcasing the dress's adaptability and appeal across various heights and sizes. Whether you're going to a fancy event or keeping it casual, this light grey hooded tunic is a stylish and unique choice for special occasions.
LONG HOODED DRESS LINDA
The Long Hooded Plus-Size Dress in a beautiful pink hue is the perfect addition to your fall wardrobe. This dress features a generous hood and a convenient side pocket, adding both style and functionality to your outfit. Made from comfortable cotton knitting, it ensures cozy and breathable wear during the autumn season. Designed to accommodate maxi sizes, this dress offers a flattering fit for various body types, making it a versatile choice. The model wearing this dress is size M and is 5'6" (170 cm) tall, showing that the dress works well for various heights and sizes. Whether you want a chic and comfy everyday outfit or a special piece for an event, this pink plus-size hooded dress offers style and comfort in one.
COTTON HOODED DRESS LINDA
The Autumn Long Hooded Dress in a soothing beige mélange color is a versatile addition to your fall wardrobe. This dress has a roomy hood and a useful side pocket, effortlessly combining style and functionality. Crafted from comfortable cotton fabric, it provides cozy and breathable wear, ideal for the autumn season. Designed to accommodate maxi sizes, this dress ensures a flattering fit for a range of body types. The model in the description is 5'6" (170 cm) tall and wears a size M. This highlights how versatile and suitable the dress is for various heights and sizes. Whether you're dressing casually for the day or going all out for a special event, this beige mélange hooded dress offers both fashion and comfort. It's an excellent choice for the fall season.
HOW TO PROTECT HOODED MAXI DRESSES?
To keep your stunning hooded maxi dress in great shape, be sure to follow the care instructions. Start by reading the label on each dress to check for any special requirements, as different fabrics may need different care. Here are some pointers:
To avoid color fading and fabric wear, hand washing is frequently advised. If machine washing is allowed, utilize the cold-water cycle. Select mild, color-safe detergents to protect the vibrant hues. When it comes to drying, it's best to lay these dresses flat to air dry. Avoid direct sunlight, as it can cause colors to fade. To prevent any snags or damage, consider storing them separately or inside out in your closet. For dresses made from delicate materials like velvet, using a garment bag during both washing and storage is a wise choice. By following these care tips, you can keep your stylish hooded maxi dresses in great shape, so you can wear them for many more winters.
CONCLUSION
Discover the perfect combination of style and comfort with hooded maxi dress. We'll show you how to effortlessly achieve chic elegance and provide ideas for versatile outfit pairings. Our carefully chosen selection of trendy hooded maxi dresses is here to upgrade your winter wardrobe. But it's not just about fashion – we'll also share essential care tips to keep these dresses looking fabulous for a long time. This article is here to help you feel confident and comfy while rocking hooded maxi dresses. It's a must-read for fashion enthusiasts aiming for a stylish and memorable winter season.
Liquid error (sections/article-template line 168): Could not find asset snippets/blog-comment-form.liquid