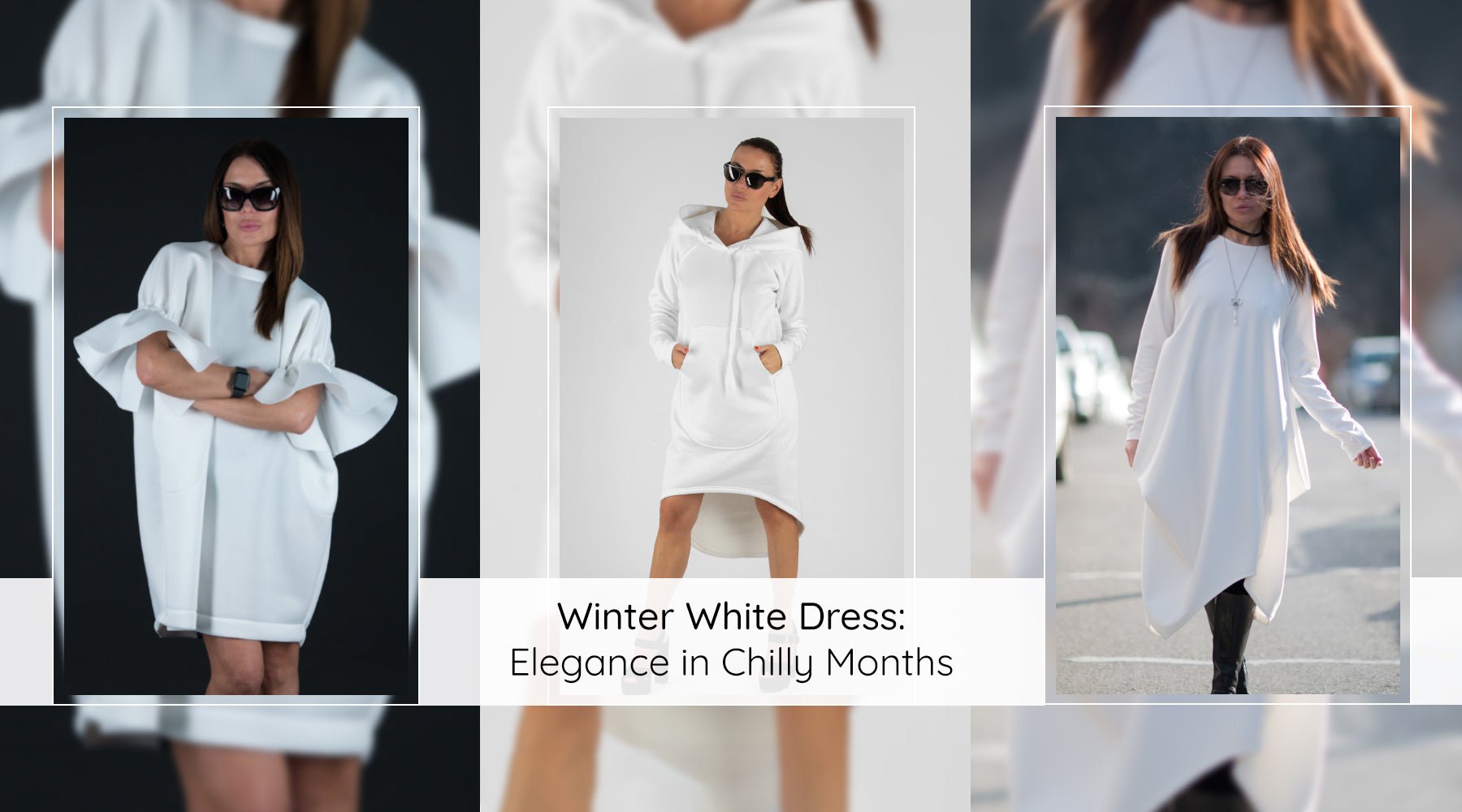 Winter White Dress: Elegance in Chilly Months
Brace yourself for an unconventional winter where white reigns supreme. In a world dominated by sombre shades, winter white stands out as a symbol of pure elegance. Our article is your exclusive key to unravelling the secrets of winter's allure, where white takes on a magical dimension. Prepare to be enchanted as we guide you through outfit inspirations, style tips, and an insider's look at the top winter white dress trends of 2023. Venture with us into a realm where snowy elegance. Becomes the ultimate fashion statement, defying all norms and expectations.
Why choose a Winter White Dress?
Wearing a winter white dress is a fashion choice that defies convention, but it's a choice that can bring elegance and charm to the colder months. In a sea of dark and muted tones, white stands out as a symbol of purity and simplicity, casting a serene and almost ethereal aura. The allure of white in winter lies in its ability to evoke a sense of pristine beauty amidst the starkness of the season. It's a blank canvas upon which the natural world's frosty palette can create stunning contrasts. and it captures the magic of snowfall in its purest form. So, don't be afraid to embrace the winter white dress; it's a statement of grace and sophistication that celebrates the unique beauty of the season.
Winter White Dress Ideas
When it comes to outfit ideas for a white winter dress, there's a world of elegance and versatility waiting to be explored. Channel your inner Meghan Markle with a timeless white turtleneck sweater dress. Exudes sophistication and transitions seamlessly from winter to early spring.
To complete your outfit, match a warm wool coat with olive accessories to bring everything together. Going entirely white might feel bold, so take a cue from Princess Diana and add a pop of color with your accessories for a stylish statement.
And for that winter chill, a cozy fur-lined coat with gold accents is a must-have. It's a standout piece that never goes out of style. Pair it with gold accessories, leather gloves, and bold red lipstick to give your look a trendy and fresh vibe. Lastly, for those willing to embrace the boldness of a monochrome moment, head-to-toe white can be chic and unforgettable.
To achieve a trendy winter look, focus on using different textures, combining various shapes, and adding off-white tones. You can go for a classy style, add subtle hints of color, or stick to an all-white outfit. White winter dresses provide a versatile base to create stylish and cool outfits that embrace the winter vibe.
How to look Stylish in a Winter White Dress
To achieve a stylish winter look with a white dress, it's essential to strike a harmonious balance between elegance and warmth. Let's begin with a classy white turtleneck sweater dress. It's both chic and keeps you warm when it's cold. To stay cozy, think about wearing thick tights or knee-high boots with the dress. This not only looks stylish but also keeps you snug. Top it all off with a matching wool coat to create a polished and cohesive appearance.
Accessories play a pivotal role in elevating your winter white dress outfit. Incorporate a statement belt to cinch the waist, accentuating your figure and adding a fashionable flair. A thick scarf can add texture and depth to your outfit, while leather gloves give a fancy and warm touch to your hands. Your choice of shoes matters too; go for ankle boots or pointed heels to make your look more elegant.
While you're embracing the purity of white, don't shy away from a subtle pop of color. Incorporate a colorful handbag or vibrant earrings to infuse energy and contrast into your outfit. Lastly, don't underestimate the power of bold red lipstick, which not only adds a touch of glamour but also creates a striking focal point. With these expert tips, you can effortlessly master the art of looking chic in a winter white dress. While staying snug and stylish throughout the cold season.
Some of the Best Products for Winter White Dresses for 2023
Here are some of the best products to complement your winter white dress in 2023, ensuring you stay stylish and cozy throughout the season:
Dress with long Sleeves
Winter maxi Dress
White winter neoprene Dress
Long cotton Dress
Hooded long Dress
A line maxi Dress
Dress with Long Sleeves
Indulge in the ultimate blend of comfort and style with our Autumn Winter White Cotton Dress. Crafted from a gentle and soft fabric mix of 95% cotton and 5% elastin (Punto Milano). This dress promises a luxurious, skin-friendly feel that's perfect for those chilly days. The long sleeves provide added warmth, while the back long zipper adds a touch of sophistication to your look. Whether you're looking for a maxi-size outfit or just want to make a statement, this dress is designed to flatter all body types. Our model, standing at 5'6" / 170 cm. Showcases the versatility of size M. Don't miss out on the opportunity to elevate your winter wardrobe effortlessly. Grab this dress now and experience the perfect combination of fashion and comfort.
Winter Maxi Dress
Elevate your autumn and winter wardrobe with our Autumn Off White Wool Cashmere Dress. Crafted from a luxurious blend of cashmere and polyester. This dress offers unmatched warmth and comfort to keep you cosy during the cooler seasons. Its timeless off-white hue ensures versatility in your wardrobe, making it suitable for a range of occasions. Whether you're headed to work or a special event, this dress is designed to flatter, and its maxi size option ensures it suits various body types. Just like you, standing at 5'6" / 170 cm, our model comfortably wears size M. Don't miss out on adding this beautiful dress to your wardrobe. It offers both style and cosiness, perfect for fall and winter.
White Winter Neoprene Dress
Elevate your winter wardrobe with our White Winter Neoprene Dress. This dress is made from soft and cosy thin neoprene fabric, ensuring comfort throughout the season. This dress is great for all kinds of events, even in winter, because it has short sleeves and convenient pockets. You can wear it every day, too. It comes in maxi sizes, so it looks good on different body shapes, just like our 5'6" tall model. Who wears a size M. Make sure to get this cozy and stylish winter dress—it's a perfect mix of fashion and usefulness for this season!
Long Cotton Dress
Introducing our Long Cotton Dress, a versatile choice for your wardrobe. This dress is perfect for spring, autumn, and even those not-so-chilly winter days. It's designed with a comfortable A-line fit and features two handy side pockets. It makes it stylish and practical for various occasions. Crafted from a blend of cotton and elastin, it feels soft and flexible for all-day comfort.
Whether you're dressing up for a spring outing or need something cosy for cooler days, this dress has you covered. We have maxi sizes available, so they'll look great on all body types. Our model is 5'6" tall and wears a size M, so you can get an idea of how it fits. Make sure you grab this must-have item for year-round fashion that's comfy, stylish, and versatile. Don't miss out!
Hooded Long Dress
Introducing our Off-White Hooded Dress with a single spacious pocket. Crafted from a gentle and soft cotton elastin wadding, this dress offers ultimate comfort and warmth. Whether you're seeking a cosy outfit for a chilly day or a stylish choice for various occasions, this dress fits the bill. Its versatile design features a hood for that extra touch of warmth and a generously sized pocket for added convenience.
This dress is available in maxi sizes, ensuring a flattering fit for a range of body types. Our model, standing at 5'6" tall, exemplifies the style in size M, but it can be customized to fit your specific measurements. We're here to accommodate your preferences and ensure you have the perfect fit. Check out this awesome hooded dress! It's super comfy and can be styled for any occasion easily.
A-line maxi Dress
Discover our Loose Summer Dress, designed for comfort and style during the warmer months. This dress features short sleeves and an A-line silhouette, offering a relaxed and airy feel for those hot summer days. Plus, the convenient buttons on the back make dressing up a breeze.
Crafted from a Poly viscose blend, it provides a lightweight and breathable experience, ideal for staying cool when the sun shines. Our model, who stands at 5'6" and wears size M, beautifully showcases the dress's effortless elegance. This breezy summer dress is perfect for the beach, a casual day out, or a laid-back evening event. It's all about comfort and effortless style! Don't miss the chance to enjoy summer in style!
In a Nutshell
we've dived into the world of winter whites. We've talked about their elegance, shared outfit ideas, and offered tips to keep you stylish and warm. Plus, we've introduced some great winter white dresses for 2023. By using these insights, you can celebrate the season's beauty while looking chic and sophisticated. With these helpful tips and trendy dresses, you're all set to rock the winter fashion scene.
Liquid error (sections/article-template line 168): Could not find asset snippets/blog-comment-form.liquid