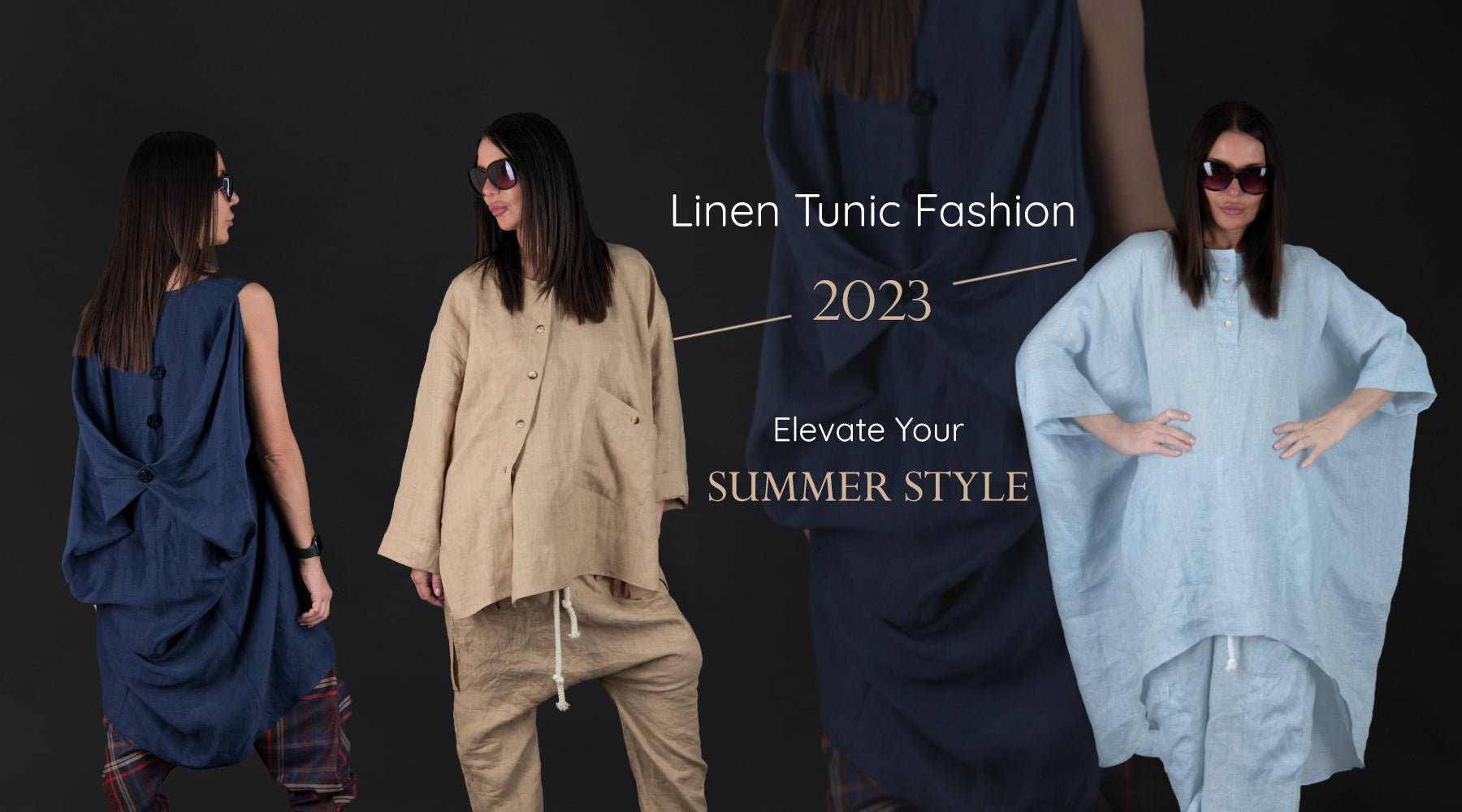 Linen Tunic Fashion 2023: Elevate Your Summer Style
Welcome to a sizzling world of style! In this article, we'll explore the must-have linen tunic fashion trends for 2023. From breezy dresses to chic jumpsuits, versatile tops, and comfy trousers, we've got your best wardrobe covered. Whether you're a fan of classics or crave the latest trends. Let's dive into the world of linen and elevate your summer fashion game!
Linen Tunic
There's something about a linen dress that exudes a relaxed and effortless charm. Linen, being a breathable fabric, ensures you stay comfortable even on scorching summer days. Whether you're planning a laid-back lunch, a seaside getaway, a day at the office, or a memorable occasion, a linen dress always seems like the perfect pick.
Let's try to discover about best linen dresses for women for 2023:
Easy Linen Dress
Linen dresses are your go-to summer essential, fitting for any occasion from relaxed beach outings to formal weddings or parties. They not only offer versatility but also keep you cool in the summer heat thanks to their lightweight, breathable fabric. Whether you prefer a playful pink mini dress, a classy midi option, or a charming button-front style, linen tunic dresses can adapt effortlessly to your fashion preferences.
Elevate your look with statement jewelry and strappy sandals for formal events, or keep it laid-back with Birkenstocks and a straw tote. The versatility of linen dresses ensures they're a valuable addition to your summer wardrobe, guaranteeing stylish comfort throughout the season.
Breezy Linen Tops
A linen tunic top is like a must-have gem in your closet! It's your trusty companion for running errands, soaking up the sun at a park picnic, or catching up with friends over lunch, effortlessly elevating your style game.
Just Imagine rocking a linen tank with your favorite denim shorts for that casual yet put-together vibe, or stepping up your fashion game by pairing a linen tunic with a statement necklace and some comfy sandals. And guess what? If you're all about ease and chic, just go for a matching linen set – you'll look fabulous!
Linen Shorts
When you're after both comfort and versatility, linen tunic shorts are the answer. No matter if you lean towards a more tailored and polished appearance or crave that loose, laid-back feel, you'll find a linen short that suits your style. Keep it easygoing by teaming them up with a simple t-shirt and sneakers for a casual outing, or elevate your look with a blouse and some stylish strappy sandals.
Linen Tunic Jumpsuits
For a fuss-free and enjoyable fashion choice, consider embracing the convenience of a linen jumpsuit. This versatile piece is your go-to for an all-in-one outfit that's perfect for everyday wear – simply team it with sneakers or Birkenstocks for a casual vibe. Alternatively, opt for a fitted linen jumpsuit to dazzle at summer weddings or parties. If you're aiming for a more dressed-up look, complement it with low heels, strappy sandals, and a playful bag for that extra touch of style.
Linen Tunic Pants
When it comes to comfortable and chic summer pants, lightweight linen pants are the top choice. Their breathability ensures you stay cool, even on scorching days, while the relaxed fit and natural wrinkles add a laid-back charm that complements a variety of outfits. Although the outfit shown actually features cotton pants, here's my go-to look for hot days.
To style linen pants, you can pair them with a fitted tank top or a linen button-down, adding some sandals for a casual daytime look as seen above, or elevate your style by matching them with a silk tank and heels for a more sophisticated ensemble.
Also, Read More: How to Style your Winter Coat
Here are some Top Linen Tunic options to consider for 2023
Explore the best linen tunics of 2023, where style meets comfort effortlessly. Whether you're into timeless classics or trendy designs, these selections promise both versatility for the year ahead.
LONG LINEN TUNIC EFFE
The LONG LINEN TUNIC EFFE is a stylish women's outfit with a number of distinctive characteristics. It is a fantastic option for a variety of events because it is made entirely of linen fabric and provides both comfort and breathability.
LINEN TUNIC JADA
The Linen Tunic Jada is a top for ladies that combines comfort and style. It is composed entirely of premium linen fabric, assuring breathability and a comfortable feel, making it appropriate for a variety of occasions.
FIERY TUNIC ALLA
The Fiery Tunic Alla is a sleeveless linen tunic designed with a loose, relaxed fit and a classic round neckline. It's crafted from a blend of high-quality linen and cotton fabrics, combining the natural breathability and comfort of linen with the softness and durability of cotton.
LINEN TUNIC FABIANA
The Linen Tunic Fabiana is a chic women's tunic-top crafted from 100% linen fabric. It features an asymmetrical wide shape, adding a modern touch to its design, and boasts a maxi length with long sleeves. This tunic offers a comfortable and stylish option for various occasions, keeping you cool and fashionable in warm weather.
LINEN MAXI TUNIC SHARON
The Linen Maxi Tunic Sharon is a stylish women's tunic crafted from 100% linen fabric. With its maxi length and distinctive back button detail, it offers a unique and elegant look. The use of high-quality linen ensures exceptional comfort and breathability, making it an excellent choice for various occasions. The back buttons not only serve a functional purpose but also add a touch of sophistication to the tunic's design, making it a versatile and fashionable addition to your wardrobe.
Wrapping – up
We've explored the hottest linen fashion trends for 2023, from versatile dresses and jumpsuits to chic tops, comfy trousers, and stylish accessories. Whether you're into classics or the latest trends, these linen pieces promise timeless style and comfort.
Embrace the breathability and elegance of linen to stay cool and fashionable all summer long. With these insights, you're equipped to curate a wardrobe that effortlessly blends comfort and style, ensuring you look and feel your best. Upgrade your summer fashion game and embrace the essence of effortless charm with these top linen tunic options.
Liquid error (sections/article-template line 168): Could not find asset snippets/blog-comment-form.liquid