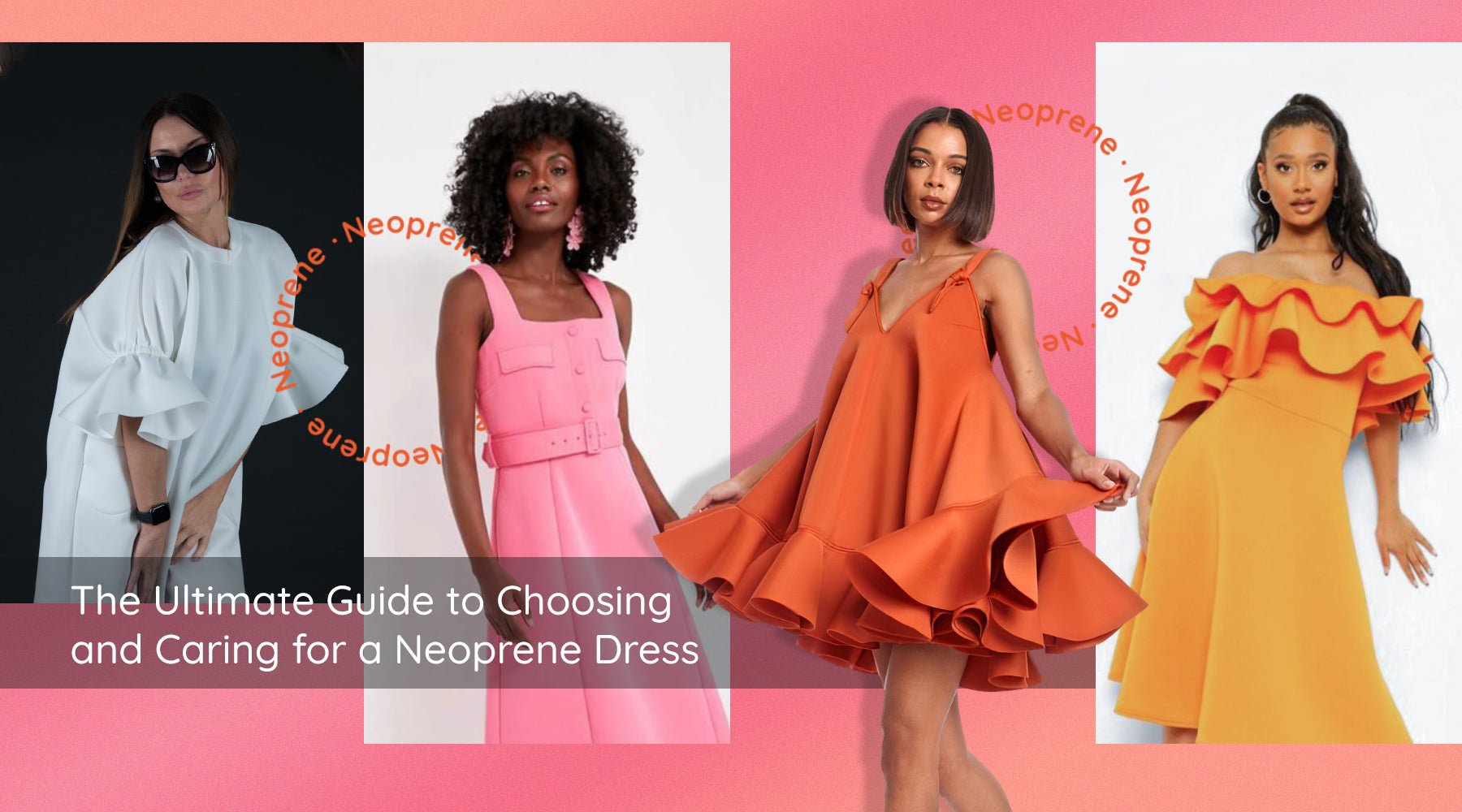 The Ultimate Guide to Choosing and Caring for a Neoprene Dress
Are you looking for a stylish and comfortable dress that is perfect for any occasion? Look no further than the Neoprene Dress. This versatile garment has become an increasingly popular choice in recent years, as it offers unparalleled style and comfort while remaining incredibly durable.
Whether you're attending a wedding or just heading out to dinner with friends, a neoprene dress can be dressed up or down, depending on your needs. In this article, we will explore different styles of neoprene dresses, provide helpful tips on how to care for them properly and show you how to create unique looks with this timeless piece of clothing. So if you are ready to add some fun flair to your wardrobe, read on!
Neoprene Dress Benefits
Neoprene Dress have become increasingly popular for a variety of reasons, all of which make them an ideal addition to any wardrobe. Here are a few of the benefits that come with this type of dress:
Comfort: Neoprene is incredibly soft and lightweight, making it ideal for all-day wear. It also has a 4-way stretch, which allows you to move freely without feeling restricted or uncomfortable.
Durability: Neoprene is an incredibly tough material, meaning your dress will last for years to come.
Versatility: With neoprene dresses, you can create a variety of looks, from casual and laid-back to dressed up and sophisticated. The fabric also comes in a range of colors and patterns, so you're sure to find one that speaks to your individual style.
How To Care For Your Neoprene Dress
To ensure your Neoprene Dress looks its best, it's important to take proper care of it. Here are a few tips for keeping your garment looking like new:
Wash by Hand: To avoid damaging the fabric, always wash your neoprene dress by hand. Use a mild detergent and lukewarm water to gently scrub the dress.
Use a Low-Heat Setting: When drying, use a low-heat setting on your machine to avoid shrinking or altering the shape of the garment. If you air dry it, avoid direct sunlight as this can fade the colors.
Store Carefully: When not in use, hang your neoprene dress up or store it flat in a drawer to ensure it retains its shape.
Creating Unique Looks With Your Neoprene Dress
Once you have the basics of caring for your neoprene dress down, it's time to start experimenting with unique looks. Here are a few ideas on how you can style your garment:
Layer it Up: One way to create an interesting look is to layer your neoprene dress over a tank top and leggings. This is especially great if you're looking for more coverage or warmth.
Accessorize: To create an eye-catching ensemble, add a few statement pieces such as scarves, necklaces, or belts.
Add Texture: Go for a textured look by pairing your neoprene dress with a patterned or textured jacket or cardigan.
No matter how you choose to wear it, a neoprene dress is sure to add some fun and flair to any wardrobe. With the right care and styling tips, you can enjoy this timeless piece of clothing for years to come! Now go ahead and enjoy this classic wardrobe staple.
Explore Different Styles of Neoprene Dresses
Neoprene dresses come in a variety of styles and cuts, allowing you to find the perfect look for any occasion. From short and sweet sundresses to long and elegant cocktail dresses, there is something for everyone. Here are a few of the most popular styles:
Bodycon Dresses: These form-fitting dresses are perfect for any occasion, from work to going out. The fitted silhouette shows off your curves and gives you a sleek look.
Midi Dresses: If you're looking for coverage without sacrificing style, a midi dress is a great option. The mid-length of this dress is flattering on all body types and can be dressed up or down depending on the occasion.
Maxi Dresses: For a more formal look, opt for a maxi dress. Floor-length gowns are perfect for black-tie events or other formal occasions. With the right accessories, they can also be dressed down for a more casual look.
No matter which style of neoprene dress you choose, you are sure to find one that suits your individual style and needs. So go ahead and start experimenting with different looks! With the right care and styling tips, you can create a variety of unique ensembles with your new favorite dress. We hope this guide has been helpful in helping you choose the perfect neoprene dress for your wardrobe.
Conclusion
Neoprene dresses are a great addition to any wardrobe, offering unparalleled comfort and style. With the right care and styling tips, you can create unique looks that will last for years to come. Whether you're looking for something casual or formal, there is sure to be an option that suits your individual needs. From bodycon dresses to maxi gowns, neoprene has become one of the most popular fabrics on the market due to its versatility and durability – so go ahead and start experimenting with different styles today!
Liquid error (sections/article-template line 168): Could not find asset snippets/blog-comment-form.liquid