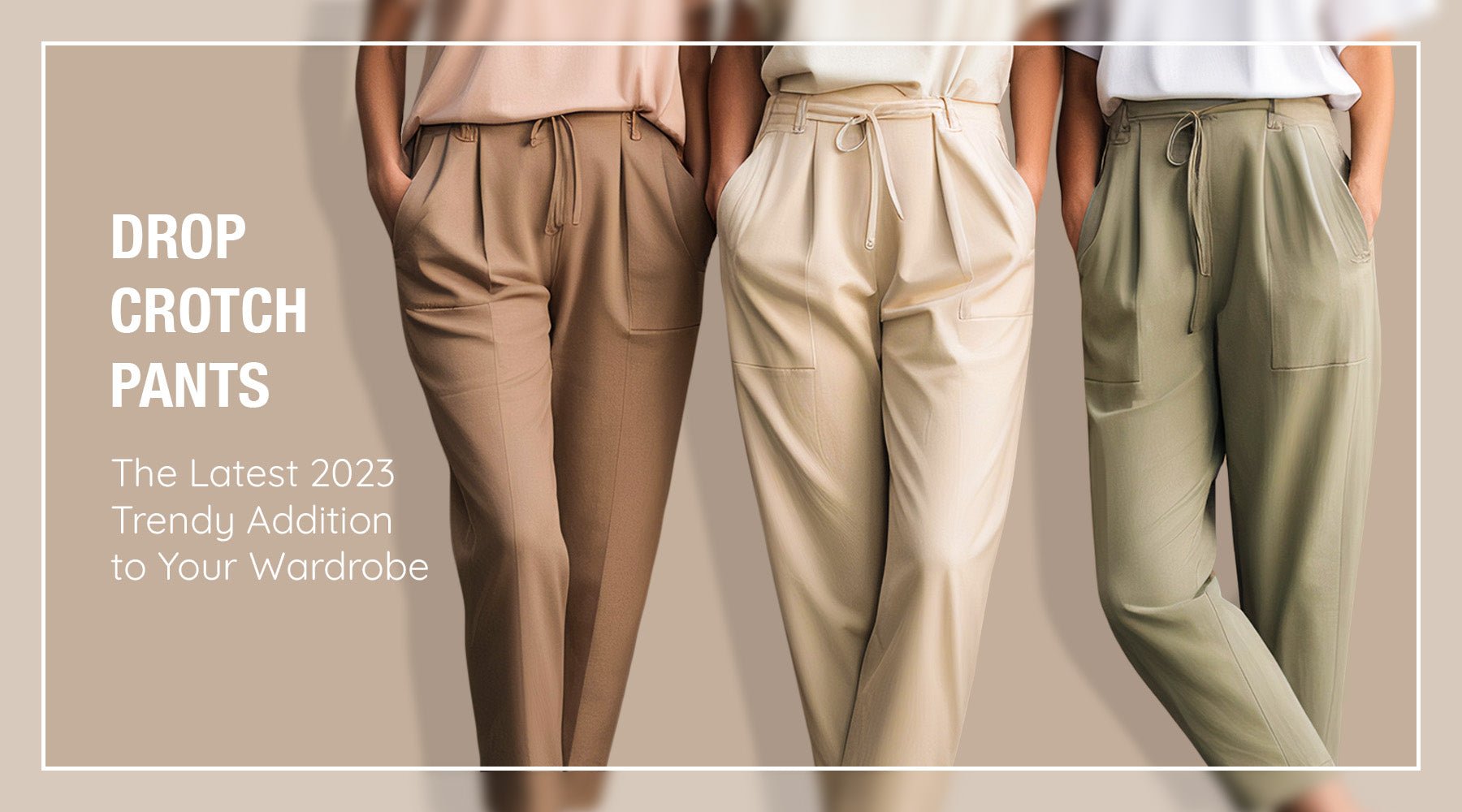 Drop Crotch Pants: The Latest 2023 Trendy Addition to Your Wardrobe
Have you heard about a fascinating fashion trend that's making waves worldwide, offering both style and comfort in one? Introducing the ever-popular and versatile drop crotch pants! These trendy pants are turning heads worldwide, and their popularity is growing rapidly. Whether you want to amp up your style or just learn about this new and exciting trend, let's explore its origins, key features, and awesome advantages. You might just find yourself in awe with what so much chicness it can bring to your closet.
Furthermore, let's take a glance at how we can incorporate this cool fashion staple into our everyday looks. Join us on this ride to explore and appreciate both the comfort and style of Drop Crotch Pants!
The Evolution of Drop Crotch Pants That Led to the 2023 Trend
It's hard to believe that crop trousers have been around for a while, but they just haven't had the fame and prominence until recently! Trace it back to the 2000s – it was then when street fashion suddenly snowballed. Designer brands began creating one-of-a-kind pieces, and soon after, celebrities joined the trend. Rihanna was seen sporting crop jeans in paparazzi photos. While Beyonce confidently wore them on red carpets and other occasions.
This got people talking about these clothes, and because famous people wore them, they became popular with the general public. Lots of people liked how these clothes looked stylish but were also comfortable. Now, a few years later, they are one of the trendiest fashion choices today. We bet glamorous heads will still be rocking this trend for many more years to come. Here's why!
Innovative Design: How Drop Crotch Pants Differ from Traditional Styles
Drop Crotch pants are revolutionizing fashion with their striking designs! They boast a modern flair thanks to a lowered crotch point and spacious fit in the seat and thigh allowance. This contemporary silhouette offers improved comfort without any compromise to freedom of movement.
Drop crotch pants are a unique choice that sets them apart from traditional styles. They're the obvious go-to for folks seeking both style and functionality. Think roomy pockets, an unparalleled fit, unrivaled mobility, and extraordinary comfort – what more can you ask for? This fresh style revamps basic wardrobe essentials, giving you a cool and easygoing look that's great for daily wear!
Also, Read More: 5 Fashion Trends to Look Out for in 2023
Impact on Contemporary Fashion: Breaking Stereotypes and Challenging Norms
Drop Crotch Pants have become a powerful symbol of empowerment both in and out of fashion! They have changed the way people think about how men and women should act and dress, and how they express themselves. These changes have challenged the old-fashioned ideas about what's "normal. Evident in their design (or lack thereof), drop crotch pants leave no room for thoughts on "what is appropriate for what gender?". People all around the world have a chance to try out unique styles using bold and expressive clothing. Let's look at how these trendsetters in fashion are influencing modern style trends. Pushing the boundaries to transform the industry.
Defying Gender Norms
One of the most notable impacts of drop crotch pants on contemporary fashion is their ability to defy gender norms. In the past, clothing was usually seen as either for "men" or "women" with not much in between. But things are changing with the rise of drop crotch pants. These things don't fit into regular groups and let people be themselves without worrying about what society thinks. By choosing drop crotch pants, we can step away from strict gender rules and make fashion more welcoming for everyone.
Embracing Body Positivity
Drop crotch pants are a win for body positivity! They're all about embracing diverse body shapes and sizes. With their comfy loose fit and lower crotch, they're both cozy and trendy. These pants work for everyone, boosting confidence and empowering people in their fashion picks. They shout that fashion should be for everyone, regardless of what society says is beautiful. It's all about spreading love and acceptance in the fashion world!
Redefining Style Boundaries
Drop crotch pants are known for their distinct look and trendy vibe, pushing fashion boundaries in a cool way. They've become a must-have for those who love to stand out, offering a bold and different choice in clothing. These pants encourage you to get creative with your style, letting you express yourself in new and exciting ways. Drop crotch pants have shaken up the fashion world by defying traditional norms and giving style a new meaning. They've inspired a wave of creativity and individuality in today's fashion scene.
Inspiring Fashion Freedom
Drop crotch pants have brought a breath of fresh air to fashion, promoting personal comfort and style over strict rules. They let people break free from rigid dress codes and embrace a laid-back and genuine way of dressing. These pants offer flexibility in how you wear them, going from casual streetwear to more dressed-up looks for different events. This new fashion freedom empowers people to show their true selves and fosters a more inclusive and expressive fashion scene.
"Ultra-Functional Features" of Drop Crotch Pants: That Keep You Looking, Chic
Drop crotch pants have a special charm because they're a bit mysterious. They offer a lot, like being comfy, making a style statement, and fitting well with their stretchiness. That's why they're so popular nowadays. Let's break down what makes these pants really cool:
Fit and Comfort: A Breakthrough in Ergonomic Design
Drop Crotch Pants are well-known for their amazing fit and comfort. They're designed in a way that's different from regular pants, ensuring you can move easily without feeling tight. The main thing that makes them special is the lower crotch point, giving more room in the seat and thigh area. This smart design lets your legs move freely, making these pants perfect for those who want both style and comfort.
Drop Crotch Pants often have a stretchy or adjustable waistband, which makes them even more comfy. This stretchy waistband is flexible and keeps the pants in place without feeling tight. The way these pants are designed lets you move around easily. Making them good for different activities like walking, doing yoga, or working in the office.
Also, Read More: Find Your Personal Style
Material Choices: Balancing Durability and Style
Drop Crotch pants come in a wide range of materials, each offering its unique blend of durability, comfort, and style. The choice of material plays a significant role in determining the overall look and feel of the pants. Here are a few common materials used in crafting crotch pants:

Cotton: Cotton is a popular choice for Drop crotch pants due to its breathability and softness. It offers comfort and ease of movement, making it suitable for everyday wear.
Denim: Denim Drop crotch pants combine the durability of denim fabric with the relaxed fit and comfort of crotch pants. They provide a casual and rugged aesthetic, perfect for achieving a laid-back yet stylish look.
Linen: Linen drop crotch pants are favored for their lightweight and breathable properties, making them ideal for warmer climates or summer fashion. They offer a relaxed and effortlessly chic vibe.
Synthetic Blends: Some baggy pants have parts made of synthetic stuff like polyester or nylon mixes. These materials make the pants stretchy and good at handling sweat, making them comfy and useful.
Important Note: When choosing drop crotch pants, consider the climate, occasion, and personal preferences to select the material that best suits your needs.
Unique Silhouettes: Exploring Different Crotch Pant Styles
Crotch pants offer a diverse range of silhouettes, allowing individuals to explore various styles and aesthetics. While the lower crotch point is a common feature among all drop crotch pants, the overall shape and cut can vary. Here are a few popular crotch pant styles:

Harem Pants: Harem pants feature a dropped crotch that tapers towards the ankle, creating a relaxed and voluminous silhouette. They often have a gathered or elasticized waistband, offering a comfortable and stylish option.
Drop-Crotch Pants: Drop-crotch pants have a lower crotch point that falls below the natural waistline, resulting in a distinctive and relaxed fit. They can range from loose and baggy to more tailored and structured styles.
Jogger Pants: Jogger pants combine the comfort of crotch pants with sporty elements. They typically have a relaxed fit, an elasticized waistband, and tapered or cuffed ankles, giving them a casual and athletic aesthetic.
Culottes: Culottes feature a wide-leg silhouette with a lower crotch point, creating a fashionable and contemporary look. They are versatile and can be dressed up or down, making them a versatile addition to any wardrobe.
Wide-Leg Pants: Wide-leg crotch pants offer a generous fit throughout the leg, providing a dramatic and fashion-forward silhouette. They can be styled for both formal and casual occasions, offering versatility and comfort.
Also, Read More: Few Stylish Tops To Look Sassy During This Fall
Practicality Meets Fashion: Pockets, Zippers, and More
Drop Crotch Pants not only prioritize comfort and style but also incorporate practical design elements. Pockets, zippers, and other details add functionality and enhance the overall appeal of these pants. Here are some common features found in drop crotch pants:

Pockets: Crotch pants often feature multiple pockets, both functional and decorative. These pockets provide convenient storage for essentials like phones, wallets, or keys while adding a visual element to the pants' design.
Zippers: Some drop crotch pants incorporate zippers, particularly at the ankles or waist, allowing for adjustable or customizable fit options. Zippers can also add a touch of edginess to the overall aesthetic of the pants.
Drawstrings or Waist Ties: Drop Crotch pants may include drawstrings or waist ties that offer adjustability and allow the wearer to customize the fit according to their preference. These details contribute to the versatility and practicality of drop crotch pants.
Reinforced Seams: To ensure durability and longevity, crotch pants often feature reinforced seams. These sturdy seams enhance the overall quality and lifespan of the pants, allowing them to withstand daily wear and tear.
Drop crotch pants are a great clothing option because they bring together comfort, style, and practicality. They have a comfy design that fits well, using materials that work and come in different shapes. These pants are perfect for people who care about fashion and those who just want to feel good every day.
The Possible Ways to Wear Drop Crotch Pants
It might seem like there aren't many ways to style crotch pants, but that couldn't be further from the truth. Drop Crotch pants offer a wide range of styling opportunities – here are just a few ideas:
Casual Chic: Effortlessly Nailing the Street Style Look
Drop Crotch pants are perfect for creating a casual chic look that exudes comfort and style. Here are some tips for styling crotch pants for a street-style-inspired outfit:
Pair your drop crotch pants with a graphic tee or a loose-fitting blouse for a relaxed and effortless look. Add a denim or leather jacket for an extra touch of edge.
Opt for sneakers, such as white sneakers or chunky trainers, to complement the casual vibe of the outfit. They not only provide comfort but also add a trendy element to your ensemble.
Accessorize with statement pieces like oversized sunglasses, a wide-brimmed hat, or a chunky necklace to elevate the overall look and make a bold fashion statement.
Experiment with different crotch pant styles, such as harem pants or joggers, to add variety and personality to your street-style outfits.
Business Casual Elegance: Elevating Office Attire
Crotch pants can be styled to create a polished and sophisticated business casual look. Here's how to incorporate drop crotch pants into your office attire:
Opt for tailored drop crotch pants in neutral colors like black, navy, or gray. Pair them with a crisp button-down shirt or a tailored blazer for a polished and professional look.
Complete the outfit with classic pumps or loafers to maintain a professional appearance. Choose footwear that complements the color and style of your crotch pants.
Keep accessories minimal and sophisticated. A structured handbag, a statement watch, or simple gold jewelry can add a touch of elegance without overpowering the outfit.
Ensure that the crotch pants fit well and have a tailored appearance. Avoid overly baggy styles that may appear too casual for the office environment.
Night Out Glam: Embracing Drop Crotch Pants for Evening Events
Crotch Pants can be a stylish alternative to dresses or skirts for evening events. Here's how to dress up your crotch pants for a glamorous night out:
Opt for drop crotch pants in luxurious fabrics like silk, satin, or sequins to create a glamorous and eye-catching look. Choose rich colors or metallic finishes for added impact.
Pair your crotch pants with a fitted or embellished top, such as a sequined camisole or a structured crop top, to create a balanced and chic ensemble.
Complete the outfit with high heels or strappy sandals to elongate the legs and add a touch of elegance. Consider metallic or embellished footwear to enhance the overall glam factor.
Accessorize with statement jewelry, such as chandelier earrings or a statement necklace, to elevate the outfit and add a touch of sparkle.
Athleisure Appeal: Incorporating Drop Crotch Pants into Activewear
Crotch pants are perfect for incorporating into an athleisure-inspired look that balances style and comfort. Here's how to style drop crotch pants for a sporty yet fashionable outfit:
Pair your crotch pants with a fitted sports bra or a crop top for a trendy and athletic look. Layer with a zip-up hoodie or a bomber jacket for added style and warmth.
Opt for sneakers or sporty trainers that complement the color scheme of your outfit. Look for styles with interesting details like mesh panels or metallic accents.
Accessorize with a baseball cap, a backpack, or a fanny pack for a sporty and functional touch. These accessories add a touch of utility and complete the athleisure aesthetic.
Consider experimenting with different crotch pant styles like drop-crotch joggers or track pants to create a unique and fashionable athleisure look.
You can make the most out of crotch pants by styling them in various ways for different occasions. Whether you're going for a relaxed day out, a formal setting, a night event, or a comfy athleisure look, crotch pants can be a fashionable and comfy option. Try out different shapes, colors, and accessories to create your unique style with crotch pants.
EUG FASHION: Your Destination for Quality Crotch Pants
We are beyond excited to be able to provide you with this detailed information about the ever-evolving world of Crotch Pants! Our goal is to give you an in-depth look at the revolutionary impact these ultra-functional pants have made on society. We hope after reading this, you'll fall even more in love with this garment than you already are!

At EUG FASHION, we've made it our mission to provide quality, stylish crotch pants for everyone. In our collection, we offer a wide variety of shapes, shades, and textures that provide years of fashionable expressions. Whether you're shopping for an everyday look or for a bigger night out, we've got something special just for you. Here, you'll find unified versatility, comfort, and a look that speaks for itself.
Our 5 Best Crotch Pants That You Can't-Miss Out On
The time has come to find the perfect pair of crotch pants, and we have singled out five of the absolute best for you! Get ready to find the pair of your dreams – you won't regret keeping an eye out for these! Whether you search online or accessorize in stores, these five styles are guaranteed to keep your street fashion at its sharpest. So proceed with caution: there's no telling where one of these heavenly pairs might take you:
CHECK DROP CROTCH PANTS, JASMINE
Stop waiting and look no further for that perfect casual look – these Jasmine check drop crotch pants have you covered! The gently mixed cotton fabric provides plenty of room for movement, making fits versatile. Whether you're going for a skinny top or a loose blouse, these low-rise pants are the key to an adorable yet sophisticated style! And on top of that, the beautiful check pattern adds a polished finish that'll work brilliantly through the fall and winter months. So don't waste any more time – add texture and fashionable flair to your closet by getting your hands on this amazing check drop crotch masterpiece right now!
PLAID DROP CROTCH PANTS JASMINE
EUG FASHION has done it again! Be ready to look amazing and let your wardrobe be transformed with these phenomenal plaid drop-crotch pants.
These jackets strike the perfect balance of looking classy and one-of-a-kind. They bring a sense of sophistication and uniqueness that will definitely turn heads at formal events. Plus, they're designed for a super comfy fit, making them great for a relaxed yet professional look in a business setting. Choose from tailored options in neutral colors to complete your effortlessly cool outfit! So why wait? Turn towards this amazing garment, take a plunge towards suave fashion – say hi to these miraculous plaid drop crotch pants. Have faith – you won't regret this decision!
DROP CROTCH HAREM PANTS NATALIE
It's the hottest trend of the moment -- Natalie harem pants! With an unparalleled appeal, these relaxed bottoms are ideal for a day out. Crafted from luxurious cotton, they boast plenty of elasticity and grace. Plus, the oh-so-stylish drop crotch design adds a modern aesthetic to this easy-wear piece. And don't forget about comfort; their high waistband ensures maximum movement flexibility, allowing you to feel your best all day. So why wait? Unleash effortless chic with this exceptional drop crotch harem pant – we can guarantee you won't be sorry!
DROP CROTCH PANTS LESILA
Are you ready to break the paradigm and make a bold statement? Then Lesila drop crotch pants are just the thing! Crafted with feminine silhouettes that give a timeless edge, these daring bottom pieces feature an elastic waist and ankle cuffs. Take advantage of these extra layers of comfort to celebrate your unique shape. Not only is the fabric incredibly soft and luxurious – giving a boost to your confidence – but it'll have you feeling like royalty. Trade in your regular jeans for these beautiful drop crotch pants to stand out and look fabulous no matter where you go!
LINEN DROP CROTCH PANTS CHERRY
The Cherry linen drop crotch pants are truly the last – but definitely not the least! These bottoms give you the perfect balance between a polished formal appearance and laid-back comfort. Linen fabric ensures plenty of breathabilities while maintaining structure, so you can wear these pants for work or leisure with no trouble. With an adjustable waistband, you have full control over your silhouette. Make sure you jump on this trend now – with the adaptable textures and superior air circulation of these trousers; you'll feel blissful ease as soon as you slip them on!

No matter which one you choose, you can't go wrong when it comes to EUG FASHION's Crotch Pants! Quality materials come together with innovative designs to create these timeless pieces. Step out confidently, knowing that you have the perfect pair to match any look. With our help and a bit of creativity, you'll be rocking these fashionable trousers like it's no one's business! Get ready to sport your new stylish item – all eyes will be on you!
In a Nutshell
It's clear that Crotch Pants are here to stay, and the trend is only gaining momentum. From comfort to style, the versatility of these trousers cannot be understated. When it comes to fashion, there's no better way to express your creativity than with a pant that lets you challenge traditional thinking and break stereotypes. EUG FASHION has some amazing options for those who want to join the revolution. Try out our top 5 best Crotch Pants and make a bold statement with your wardrobe this 2023 season! Don't miss out on this opportunity to upgrade your look while keeping ahead of the trends and expressing your fabulous sense of style like never before--now that sounds like something worth trying! So add some new flair to your wardrobe today with Crotch Pants from EUG FASHION!

Satisfy your fashion cravings with the best of the best. Shop our range of low-rise pants now and start looking fabulous! Happy Shopping!
Liquid error (sections/article-template line 168): Could not find asset snippets/blog-comment-form.liquid